Checking your Appliances for Recall
What RecallChek is and why you should have it.
Manufactures are required by law to recall any products they have manufactured which are deemed to be dangerous and FIX THEM FOR FREE! The problem is that most often it's up to the consumer, to find out whether appliances are potential fire or safety hazards!
RecallChek is a recall reporting service for home appliances utilizing make and model numbers. 1 in every 10 homes submitted have recalled appliances - all of which are eligible for free, in-home repairs.
The database of RECALLED items now contains over 205,000,000 appliances. Imagine trying to find your dishwasher!
Manufacturers recall items mainly for safety reasons. Over 80% of recalled appliances were the results of fire.
Two good reasons for having RecallChek ? Consider the potential consequence of not having it.
a. A fire. It could be a small one, perhaps a small kitchen fire. It could be a whole loss. Either way it is at the very minimum an inconvenience and a homeowner's insurance deductible.
b. Mechanical failure. This is definitely the more likely consequence, and it happens all the time! Your appliance repair person doesn't know the relay they are replacing over heated because it was not engineered properly. They don't know it's recalled. With RecallChek you get the FREE repair before the premature mechanical failure.
2 ways RecallChek can work for you.
1. With every Home Inspection (new customers)by Corner 2 Corner Inspections your appliances make and model numbers will be automatically submitted for RecallChek where they will be matched against the millions of recalls.
In the event of a recall you receive a report including the nature of the recall, where the product was sold, how to remedy the defect and how to get the item repaired or replaced, absolutely FREE.
2. Click the Consumer Portal Button on below and follow the simple steps to sign up. A small onetime fee of $29.95 is payable directly to RecallChek.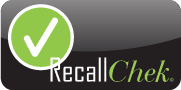 The beauty of it is you can add new appliances when they are purchased, you can some today, more next week and so on. A list below will give you an idea of the items the may be submitted.
I hope everyone takes advantage of this program, it is a very small price to pay for peace of mind in your home.
Some homes we've Inspected